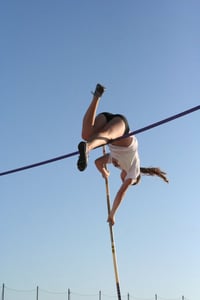 $

65.00
The LAST 3 FOUNDATION PV CAMPS!! (Mike is moving)
Jan 4, 11, and 18, 2015
From 5pm-8pm
Cost $65 per camp
Foundation Athletics' Sunday Pole Vault Camps are a great way to get a jump on your competition!
START RESERVING YOUR SPOT FOR Camps NOW!
THEY SELL OUT!
Our PROVEN progression, and system of unique drills helps vaulters MAXIMIZE their potential and become more SELF-SUFFICIENT and CONSISTENT in meets and training.
Our program has helped put athletes into college vaulting programs since we started in San Diego in 2004! Elsewhere since 1996!!!
We are the only off school site facility in San Diego made for high school vaulters. We are also the only indoor vault facility in Southern California. We have a large selection of poles for the athletes to use onsite.
We are housed inside SoCal Volleyball and Foundation Strength + Conditioning. The address is 1482 LA Mirada, San Marcos CA 92078.
Camps are from5pm to 8pm on Sunday January 4, 11, and 18, 2015
SPACE IS LIMITED!!!
RSVPs are MANDATORY via purchasing camps on this site. We often sell out the camps and do turn athletes away. We want to ensure athletes get adequate attention and jump time. Currently we operate one vault pit.
ASK ABOUT OUR PRESEASON TRAINING PROGRAM!
Includes: vaulting, strength training, speed development, and gymnastics for pole vault. Email mike@foundationstrength.com or call/text 619.913.0029
Athletes wear running flats and normal practice clothing. Spikes are used only with advanced athletes. ALL athletes must have running flats.
Contact Mike@foundationstrength.com or call/text 619.913.0029 to get any more information.
ALL ATHLETES NEED A WAIVER SIGNED BEFORE FIRST CAMP. Email for a waiver to be sent to you. This is ANNUAL, so EVERYONE has to do it.